What is Place-Based Education?
Learning through Fieldwork and Service
The overarching philosophy of The Cottonwood School of Civics and Science is to create a community of learners that are deeply involved in developing a sense of place.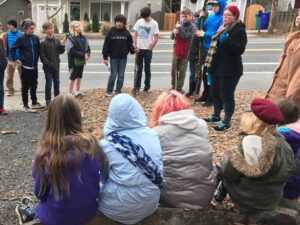 "Place-based education is the process of using the local community and environment as a starting point to teach concepts in language arts, mathematics, social studies, science, and other subjects across the curriculum. Emphasizing hands-on, real-world learning experiences, this approach to education increases academic achievement, helps students develop stronger ties to their community, enhances students' appreciation for the natural world, and creates a heightened commitment to serving as active, contributing citizens. Community vitality and environmental quality are improved through the active engagement of local citizens, community organizations, and environmental resources in the life of the school." (Sobel, 2004)
Place-based education helps students learn a broad range of concepts by connecting them, whenever possible, with the natural and social community in which students live and learn. When students are youngest and most concrete in their thinking, Place-based education strives to delve them deeply into the community allowing them to connect their learning to tangible experiences around them. So, the youngest students community, including their home, classroom and immediate neighborhood, is the focus of their work. As they grow and become more capable of abstract thought, learning moves out in concentric geographic rings. As students grow, their community expands to include Portland, Oregon, the United States and the world beyond.